The City of  Du Quoin Announces…
HOUSEHOLD HAZARDOUS WASTE COLLECTION EVENT

ON
OCTOBER 3, 2020  8:00am to 3:00pm
The Illinois Environmental Protection Agency and the City of Du Quoin will partner together for a Household Hazardous Waste (HHW) Collection Event. This is the first event in the City in over a decade. Everyone is welcome to bring HHW, business waste is excluded. The collection will take place rain or shine at the East Parking Lot of the Du Quoin Elementary/Middle School. Participants will remain in vehicle while staff unloads the items to be collected. Below is a list of acceptable items and items that should not be brought to the event.
ACCEPTABLE HHW WASTES AT ONE DAY COLLECTIONS
Oil-based paints        Household batteries        Used motor oil          Paint thinners
Herbicides                  Lawn chemicals                Pool chemicals         Aerosol paints and pesticides
Insecticides                Solvents                              Cleaning products   Fluorescent lamp bulbs
Pesticides                   Antifreeze                           Mercury                     Drain cleaners
Old gasoline              Hobby chemicals               Acids                          Corrosives
Unwanted medications (excludes Controlled Substances)
DO NOT BRING LATEX PAINT 
Latex Paint is not hazardous, it can safely be dried or absorbed and discarded with regular trash.
 UNACCEPTABLE HHW WASTES
Latex Paint                                        
Agricultural wastes                   Propane Tanks*            Business/commercial sector wastes          Smoke detectors
Explosives/Ammunition         Farm machinery oil      Fireworks                                                        Fire extinguishers*
Controlled substances             Biohazard waste             Lead acid batteries*                                     Institutional wastes
For more information contact the City Clerk's office at (618) 542-3841
alert-success
IMPORTANT NOTICE of PUBLIC AUCTION: City of Du Quoin Properties
The City of Du Quoin will dispose of certain parcels of surplus real estate through a sealed bidding process. Bids are now being accepted and can be submitted to the City Clerk by 4:00pm, October 23, 2020. For a bid sheet and list of properties – click here City of Du Quoin Property Bid Form. The property list and bid sheet are also available in the City Clerk's office (Water payment window).
alert-info
The 2020 Census will have a direct impact on small towns and rural areas across the country for the next 10 years.
The results of the 2020 Census will help communities plan for the future. They will shape how hundreds of millions of dollars in federal funding are distributed across the country—for business development, rural education, and more.
Shaping Our Communities
From disaster planning to small business development, Medicare Part B to highway construction, policymakers use census data to plan and fund many programs that affect rural communities.
Census data also shapes programs related to the following:
Rural education.
Rural business enterprise grants.
Rural home rental assistance.
Water and waste disposal systems for rural communities.
State wildlife grants.
Rural housing preservation grants.
Hunter education and safety.
alert-info
Welcome to the City of Du Quoin
Welcome to the Start of School and the Season of Falling Leaves:

This past week our children began a new school year, and they also began a new way to attend school.  Their classroom room was not only at school but also at home.  They are wearing masks and staying at a distance.

In many ways our small town has helped us deal with these pandemic times.  Our restaurants are following the guidelines provided by the State, and you and I can go out for lunch or dinner.

We have a lot of places to just go for a walk; there are no crowds here.  We have the space to enjoy a walk, run, or bike ride.

Our churches are opening, and hopefully they are following the guidelines for masks and distancing.  That is what is going to keep you and me safe.

The City Offices have been open since Illinois enter Phase Four of the Illinois Recovery Program.

Many of our shops and stores are open, and they are following the "be safe" guidelines.  You can shop in Du Quoin knowing that the store you are in is sanitized and safe.

Many of us have not traveled out of Southern Illinois since last March.  There are so many different rules about traveling and quarantines that one is not sure what they may have to do if they do travel.  It is easier and probably safer to stay at home.

In Du Quoin we have recreation, shopping, dining, and worship opportunities every day and every week.  Du Quoin is home, and Du Quoin is safe.

Enjoy the Fall,

Guy H. Alongi, Mayor
Water Office Open for Business
The payment window is once again open to walk-in customers.
Payments of cash or check can also be placed in the drop box next to the entry doors. Please secure your payment and bill by placing in an envelope, plastic bag, paper clipped, or etc. Payments in excess will be applied to your next bill. If a receipt is required (other than your canceled check), please call us and one will be mailed to the billing address.
Text Notifications
Have you signed up for our notifications …
boil orders, road closures and emergency matters (weather emergencies not included)
?
To sign up from your mobile phone –
Create a new text message
In the (To:) field type in the numbers 33222
In the message field type DUQUOIN (all capital letters, no spaces)
Press send
If you need assistance please call us @ 542-3841, M-F 7:30-4:30
Online Bill Pay
IMPORTANT. The City of Du Quoin has recently updated its online bill pay system. You must create a new account and provide your present water usage reading if you have not paid online since May, 2019. Your present reading is found in the second column of your most recent bill and is needed for security purposes. You may also pay over the phone by dialing (877) 231-0983.
Additional Payment Options
Pay over the phone by dialing (877) 231-0983
IMPORTANT NOTICE: Water Service Disconnections were resumed with Phase 4 of Restore Illinois on June 26, 2020. Please avoid disconnection by paying bills prior to the shut-off date.
*Urgent Notice Regarding Online Payments using doxo.com!
The website doxo.com is not affiliated with the City of Du Quoin. The company doxo.com is a third party vendor that charges customers a fee to pay bills online. Payments are made on behalf of their customers by issuing a paper check to the vendor. The website is not maintained by the City of Du Quoin and payments are not applied until checks have been received from the USPS. The City of Du Quoin does not contract with doxo.com and does not control any aspect of their process. If you want to make an online payment – free of charge – please click this link City of Du Quoin Online Payments
Snapshot of DOXO.com webpage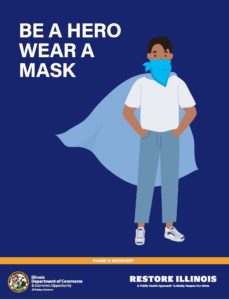 For guidance and recommendations on facemasks,
visit   CDC Guidance on Wearing a Facemask
For updated Covid-19 information,
visit   CDC  Coronavirus Disease 2019 Website
alert-info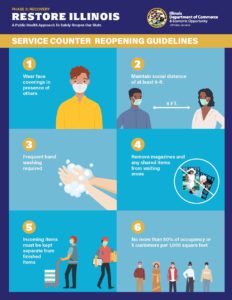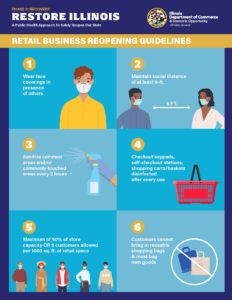 Posters provided by the Illinois Department of Commerce & Economic Opportunity.
Mayor's Message
Dear Friends and Visitors: Du Quoin welcomes you!  Whether you live and work here, or are visiting to enjoy one of our many events and activities, you have come to a town where the people are knowingly friendly and caring, and always helpful. Du Quoin is a happening place.  For decades this town of just over 6000 people has been know across the country for its hospitality and resources.  Ask a NASCAR driver where Du Quoin is, he'll tell you.  Run into some Airstream campers in California, they'll tell you about their stay in Du Quoin.  Horse racing, auto racing, cattle roping, rodeo bull riding, sports tournaments, flea markets, shining holiday lights, home shows, NubAbility training, a great State Fair, and more—it all happens in Du Quoin. And, Du Quoin has a real downtown, a historic downtown.  Our residents have devoted their energy and work to maintaining a picturesque and authentic downtown.  The City has kept the infrastructure up to date, and newly paved roads welcome our residents and guests.  If you walk along Main Street, it will be impossible for you to stay out of the shops and restaurants. Marshall Browning Hospital, the Middle School and High School, they are all new and utilize the latest technology.  The churches of Du Quoin serve the major faiths.  Keyes Park will help entertain the children.  This Town of six thousand people has all the resources a person would need.  But, it has another asset not found everywhere.  Du Quoin is a small town with welcoming warmth, and it is always friendly and safe. It is an honor to serve as Mayor of Du Quoin.  As Mayor it is my task and intent to serve the needs of our residents, guests and visitors.  If you need to know anything about our "doing" town, there are numbers of ways to find an answer.  Call the City Hall, 618-542-3841.  Go to: http://www.duquointourism.org.  Call the Chamber of Commerce at 618-542-9570, or the Tourism Commission at 618-542-8338.  Contact me personally at guyalongi@duquoin.org.  Whether you are a resident or visitor, enjoy Du Quoin
Guy H. Alongi, Mayor
A Special Thank You...
 A special thanks to the Du Quoin Evening Call and Jason Hill for the use of their photos on the website.