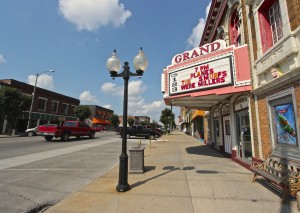 Du Quoin is a Destination for Growth
Du Quoin is increasingly becoming a destination for business and industry seeking a centrally-located, well-connected community from which to do set up and conduct operations. Strategic-ally located in Southern Illinois at the intersections of State Routes 51, 14, 152, and 154, Du Quoin also has nearby access to Interstates 57 and 64.
Transportation Systems for Growth
The community is situated directly on the Canadian National mainline with rail service that connects the Midwest to the saltwater ports of the Gulf of Mexico. The mainline intersects also with the CN St. Louis branch line adjacent to the Du Quoin Industrial Park.
The Du Quoin Industrial Park features rail service capabilities. A rail-truck transloading facility is located six miles west of Du Quoin which conveniently provides a direct gateway to the Union Pacific system. Amtrak passenger service is provided daily.
Passenger air service is only 35 minutes away at Williamson County Airport via Cape Air, 50 minutes away to Sanford, Florida at Mid-America Airport via Allegiant Air, or 90 minutes away via Lambert-St. Louis International Airport featuring multiple carriers.
21st Century Telecommunications for Growth
Du Quoin is also uniquely connected to ultra-high speed internet systems, with world class fiber-based connectivity. Independent carriers provide gigabit+ speeds at affordable pricing. The Du Quoin Industrial Park has access to existing broadband services. Terrestrial wireless service is also readily available. As Downtown Du Quoin's renovation continues, the entire four-block area will be a wireless hot spot. With the telecommunications systems in place, Du Quoin is well and fully connected to global markets.
Several businesses provide broadband and telecom services in Du Quoin. They include:
Frontier Communications
NewWave Communications
Clearwave Communications
WISPER Wireless
Verizon, AT&T, AllTel and other 3G/4G mobile phone services
Infrastructure Systems for Growth
The infrastructure in town is up-to-date and improving. Miles of sanitary sewer lines have been sleeved. New potable water mains are being installed. Du Quoin purchases its potable water from the Rend Lake Intercity Water District. The City's wastewater treatment plant was built in 2005 and has ample capacity for growth.
Places for Growth
In 1990, the City of Du Quoin in partnership with the Du Quoin Chamber of Commerce acquired 90 acres of land at the northwest corner of the city limits. That property today houses the Du Quoin Industrial Park, acreage specifically allocated to manufacturing and heavier commercial operations. The Industrial Park amenities include plenty of frontage served by heavy duty truck streets within two blocks of US Route 51. It is located adjacent to the intersections of major rail lines. The industrial park is fully served by potable water and industrial-grade sanitary sewer systems.
Located in an industrial tax increment financing district, the Industrial Park is served by an innovative and scalable energy-generating 480-panel solar array that began providing free electricity to Industrial park occupants. The goal of the array is to be able to sustainably provide up to 20% of electricity needs to occupants of the park.
An aggressive project is underway to revamp and revitalize Downtown Du Quoin as a retail, commercial, and entertainment hub for the region. When completed Main Street Du Quoin will feature new sidewalks, an attractive and appropriate treescape, and decorative lighting that combine in a way that respects the historic architecture of the buildings while making Downtown Du Quoin a accessible, walkable, connected, and pleasant shopping experience. Downtown building space remains, but it is going quickly.
The Route 51 Business District is also on an upward trajectory. With renewed interest in the gateway to the Du Quoin State Fairgrounds, retail and commercial activity is picking up as the new Sales Tax Business District program evolves. Stay tuned to learn more about this rapidly evolving program.
Incentives for Growth
Business incentive programs are in place to support the growth of both existing and new businesses. Tax increment financing districts help to fund business-friendly public infrastructure improvements and private redevelopment projects within the districts. These districts include the Du Quoin Industrial Park, Downtown Du Quoin, and other sites. A Sales Tax Business District has been established for business areas along Route 51 (South Washington Street) that will leverage further growth.
Another incentive for Du Quoin businesses is that parts of the city itself are within the Perry County Enterprise Zone. Enterprise Zone benefits include reduced real estate taxes and no sales tax on materials used to build or improve real estate.
Perry County and the City of Du Quoin also have Revolving Loan Funds which make it easier for qualifying businesses to get the capital they need to set up shop in town. Du Quoin has played an active role in Champion Community Investments, Inc., a Community Development Financial Institution (www.ccinvestments.org), a regional non-profit corporation that provides low-interest lending opportunities for area businesses.
Business Support Services
The Small Business Development Center at Southern Illinois University in Carbondale has proven to be an excellent partner in developing business plans, loan applications, financial projections, marketing programs, etc. SIUC's SBDC services are provided to area businesses at no charge. More information about the SIU Small Business Development Center can be found at www.southernillinois.biz. Please feel free to contact the SBDC at (618) 536-2424 or sbdc@siu.edu.
Interested in doing business overseas? SIUC also houses an International Trade Center that works closely with the Illinois Department of Commerce and Economic Opportunity to make sure Illinois businesses are out front in global marketplaces. Participation in trade missions by exporting Illinois businesses is encouraged. Like the SBDC, International Trade Center assistance is available at no charge. Contact the SIU International Trade Center at (618) 536-2424 or sbdc@siu.edu.
Education in Du Quoin
Du Quoin is served by a stellar P-20 educational system. Du Quoin Community Unit District 300 (www.duquoinschools.org) has recently completed construction on a new high school building that provides state-of-the-art learning environments. The new school accentuates a system that features now provides modern buildings from Pre-K through high school.
Just 20 miles south on Route 51 is Southern Illinois University in Carbondale, a public, comprehensive, nationally-ranked teaching and research university that provides post-secondary bachelor through doctoral degrees. SIUC, with an enrollment of about 18,000 students, is a great regional resource for technology, engineering, business, finance, computer science, and other high-demand degree programs. For more information, check out SIU at www.siu.edu.
John A. Logan College is the community college that serves Du Quoin. Based in Carterville, JALC offers both baccalaureate and vocational degree programs that prepare students for fulfilling and productive careers. The Center for Business & Industry provides dynamic on-site business training. Learn more about JALC at www.jalc.edu.
For More Information
Please contact Jeff Ashauer at (618) 318-3983 or jashauer@msn.com for information about available real estate and industrial park acreage, financial incentives, general economic development, tax increment financing, and sales tax business district matters.