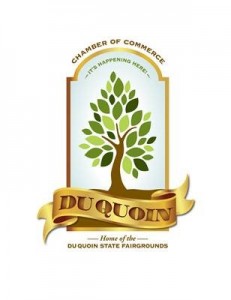 Why Chamber Membership Matters
The Du Quoin Chamber of Commerce serves as a focal point for the business community, organizing and combining the talents and resources of our membership to help the Du Quoin put its best foot forward to prospective businesses, investors, new residents and tourists. We're about teamwork, and our voluntary committees and projects give members the chance to work together to create a better future for Du Quoin commercially, as well as a better quality of life for our families. After all, what's good for Du Quoin is ultimately good for all of us.
While advancing the overall community is important, the Chamber also advocates for and promotes its members individually so that each organization has as much opportunity as possible to grow and prosper. Becoming a member requires a "fair share member investment" of just $100 per year to support Chamber operations, which we feel is a bargain considering the benefits each member enjoys:
Networking opportunities (including the monthly 6:00 PM meeting on the first Wednesday of each month, volunteer project work and other events) allow members to meet and build relationships with potential clients, suppliers and partners.
The Chamber gives members a unified voice in public policies and projects that relate to business issues
Guides and information
Direct promotion to new businesses, residents and visitors through referrals and advertising opportunities
Career enhancing educational opportunities
Member-to-Member Discounts
Membership with the Du Quoin Chamber of Commerce is an excellent way to strengthen your network of business associates, promote your business and receive benefits and services that are only accessible to Chamber members.  The Chamber invites you to connect, join and grow with us. Call us at 618-542-9570 or e-mail us at dqchamber@nwcable.net.
Du Quoin Chamber of Commerce
P.O. 57
Du Quoin, IL 62832
DU QUOIN CHAMBER OF COMMERCE MISSION STATEMENT
The purpose of the Du Quoin Chamber of Commerce shall be to develop, encourage, promote and protect the varied commercial, industrial, professional, financial and civic interest of the community; to promote and enhance the general welfare and the image of the community; to work in the best community interest in the areas of trade, commerce, industry, transportation, communications and resources; and to aid and assist local governments in the consideration of laws, ordinances and the community at large.